Chinese scientists made breakthrough on local hyperthermia therapy against obesity via activation of white fat browning
Department of Life Sciences
Eli Song, Puyue Wang, Xuelian Feng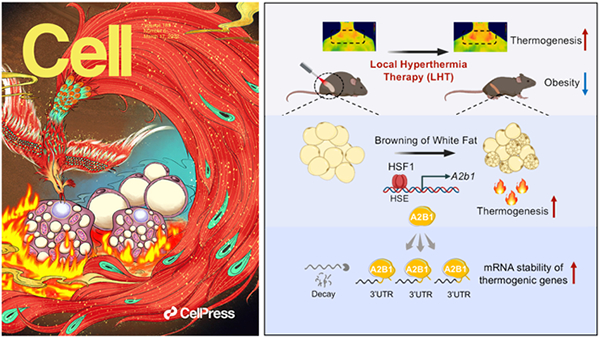 Figure: Cover Story of Cell journal (left); Schematic diagram of local hyperthermia therapy induces white fat browning and treats obesity via HSF1-A2B1 axis (right).
Supported by National Natural Science Foundation of China (Grant numbers: 32022034, 31770840, 32071148, 31800989, 81902980), Dr. Xinran Ma and his colleagues from East China Normal University and the Sixth People's Hospital Affiliated to Shanghai Jiaotong University recently reported that local hyperthermia therapy on beige fat effectively treats obesity and improves metabolic disorders by enhancing thermogenesis via the activation of HSF1-A2b1 transcriptional axis. These findings were published in Cell on March 17, 2022, entitled "Local hyperthermia therapy induces browning of white fat and treats obesity". Due to the pivotal significance in the metabolic fields, it has been selected as Featured Article and Cover Story (figure, left).
The article's link is the following : https://www.cell.com/cell/fulltext/S0092-8674(22)00144-1.
Obesity is a major risk factor for metabolic diseases including diabetes, hypertension, hyperlipidemia, NAFLD, cardiovascular diseases and certain cancers, which poses a serious threat to human health. Beige fat, a newly discovered adipose tissue featuring high functional flexibility, exhibits the characteristics of white fat at rest, but can be induced to function like brown fat under cold or β-adrenergic stimulation and promotes heat production and energy consumption as well as improves systemic glucose and lipid metabolism. Beige fat also exists in supraclavicular and paraspinal regions in human adults, which endows its great potential for intervention of obesity and metabolic diseases. Although cold stimulation or β-adrenergic receptor agonists can effectively activate beige fat, these methods have limited application in human due to various health concerns and potential side effects. Thus, scientists are striving to pursue novel and safe targets/strategies for beige fat activation.
In the current study, researchers used polyethylene glycol (PEG) cross-linked polydopamine nanoparticles to achieve local hyperthermia therapy in mice beige fat (LHT, 41±0.5℃) via NIR illumination. By generating various genetically engineered mice and adeno-associated virus (AAV)-mediated beige fat-specific overexpression or knockdown mice, researchers made the innovative discovery that, in addition to cold temperature, beige fat could also sense local hyperthermia and induce thermogenesis via HSF1, which effectively ameliorates metabolic disorders including obesity, insulin resistance and hepatic steatosis without obvious side effects. Furthermore, via ChIP-sequencing, researchers comprehensively analyzed the direct target genes of HSF1 on a whole genome scale in beige adipocytes, which provided a full picture for the HSF1 regulatory network in adipose tissues and newly identified the HSF1-A2B1 transcriptional axis in beige fat activation. Lastly, researchers revealed the association of HSF1 SNP with human metabolic traits in over 10,000 population. (Figure, right).
This study has been published in Cell with a featured preview by Professor Judith Simcox, an expert in metabolic field at the University of Wisconsin-Madison, entitled "Igniting adipocyte thermogenesis". In addition, this work has been selected by Nature as a Research Highlight entitled "Turning up the heat on fat cells offers hope for treating obesity". According to both commentary articles, Dr. Ma's study may provide potential targets and innovative strategies for obesity intervention.

National Natural Science Foundation of China
Add: 83 Shuangqinglu Rd., Haidian District, Beijing, China
Postcode: 100085
Tel: 86-10-62327001
Fax: 86-10-62327004
E-mail: bic@nsfc.gov.cn