President Li Jinghai meets with BASF Vice President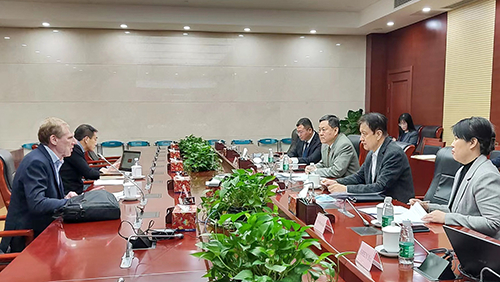 On March 1st, 2023, Prof. Li Jinghai, President of the National Natural Science Foundation of China (NSFC) held a strategic dialogue with Prof. Bernd Sachweh, Vice President of Group Research Asia, BASF SE (BASF).
At the meeting, President Li pointed out that NSFC is committed to advancing scientific and technological innovation. In the context of global challenges and paradigm shift in science, NSFC is willing to work with BASF in development for sustainability and mitigating climate change, as well as contributing to the S&T cooperation between China, Europe and over the world. Professor Sachweh appreciated NSFC's commitment in open and inclusive international scientific and technological cooperation. Recognizing the imperativeness to deepening such cooperation, he expressed BASF's vision of building up strategic partnership on potential collaboration in frontier research of low carbon technologies with NSFC. The two sides then discussed follow-up arrangements in details.
Dr. Zhizhong Cai, Senior Manager of Group Research Asia, BASF, Prof. Zou Liyao, Director General of NSFC's Bureau of International Cooperation and relevant officers were present at the meeting.

National Natural Science Foundation of China
Add: 83 Shuangqinglu Rd., Haidian District, Beijing, China
Postcode: 100085
Tel: 86-10-62327001
Fax: 86-10-62327004
E-mail: bic@nsfc.gov.cn